KAMPALA: National Water and Sewerage Corporation (NWSC) launched the "Leaders are Learners" book club, an initiative to model leadership for NWSC staff, encourage continuous learning and productivity.
The launch of this progressive reading movement was graced by the Corporation's Managing Director, Dr. Eng. Silver Mugisha also the guest of honor, accompanied by the Director Technical and Engineering Services, Eng. Alex Gisagara and the General Manager Kampala Water, Eng. Mahmood Lutaaya.
The event was characterized by swearing–in of the Patron and committee of the club, the team that conceptualized and implemented the idea of the Leaders are Learners book club.
Dr. Eng. Mugisha shared insights about the requirements of today's leaders to thrive in the workforce. In his words, "Leaders conceptualize, are technology-driven, embrace work-life balance, and are risk managers." He emphasized that today's leaders need to be able to continue to learn in order to keep up with the technological advancements happening worldwide. It is also the way to recognize problems and risks within their work and contribute to solving them. He also shared the importance of having corporate objectives for the book club and individuals who are part. So the progress can be measured for an individual and the book club.
Eng. Lutaaya, the patron of the club shared how productivity and engagement for staff can be boosted through the book club and encouraged staff to embrace this avenue of growth. He also invited the Senior Manager Legal Department to share a story he had previewed prior to the fellowship.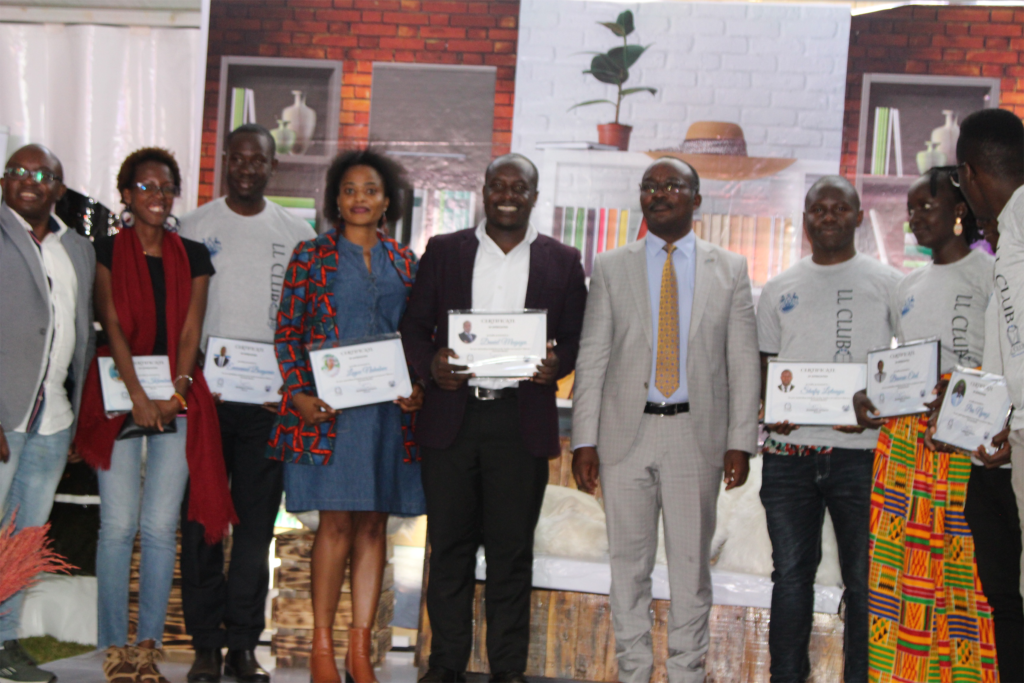 A touching story on how the inaugural book of the club, "The 5-am club by Robin Sharma" provided an opportunity for her to engage her daughter on productive life and work models such as waking up early, doing tasks on time, and planning. She intimated that shortly after her daughter read the book, she picked up some of the habits mentioned in the book and has been doing things differently in her personal and work life. Eng. Gisagara agreed, sharing stories of how waking up early is part of what has kept him and many of NWSC's Top management team alert and able to achieve quality output for NWSC; from emergency works and other management duties required of them.
Ms. Brownie Ebal the interim president and a Senior Legal Officer with Kampala Water in her speech shared that the club is an opportunity for people to challenge themselves to learn different things, for example, public speaking, a journey that she has embarked on.
During the event, a select group of participants shared their perspectives of the popular 5-am club including lessons and validations of habits they had already been doing. Jackson Wasajja – an Electrical Technician and Winfred Maiga a legal officer both alluded to anecdotes from the book; "Treat people with respect regardless of how they look. They might provide the solution to your problem."  Doreen Kakaija shared how waking up early has enabled her to accomplish more in her day-to-day work.
The Leaders are Learners book club was crowned with two musical performances from staff; Ezama a Software Engineer and Maurice Ayoo a Project Implementation Unit Engineer, a sumptuous meal of meats, juice, tea, and a Karaoke evening where staff bellowed their lungs out.