Former FUFA president and Vipers Sports Club chairman, Lawrence Mulindwa has unveiled  the refurbished St.Mary's stadium.
WAKISO: Early this year, the Confederation of Africa Football (CAF) made a report in which it declared St.Mary's stadium unfit to host continental games because of a number of reasons among others including an uneven pitch with slopes all over the ground.
Meanwhile, at the end of last Uganda Premier League season, works started on the stadium and consequently led to installation of an artificial turf.
Speaking at the function to unveil the refurbished stadium, Mulindwa said they contemplated on a number of issues before choosing the artificial turf ahead of natural grass.
"We chose the turf due to the time factor, convenience and modernity .We then had to look for the latest design of turf that matches not on African but world standards,"Mulindwa told journalists on Tuesday.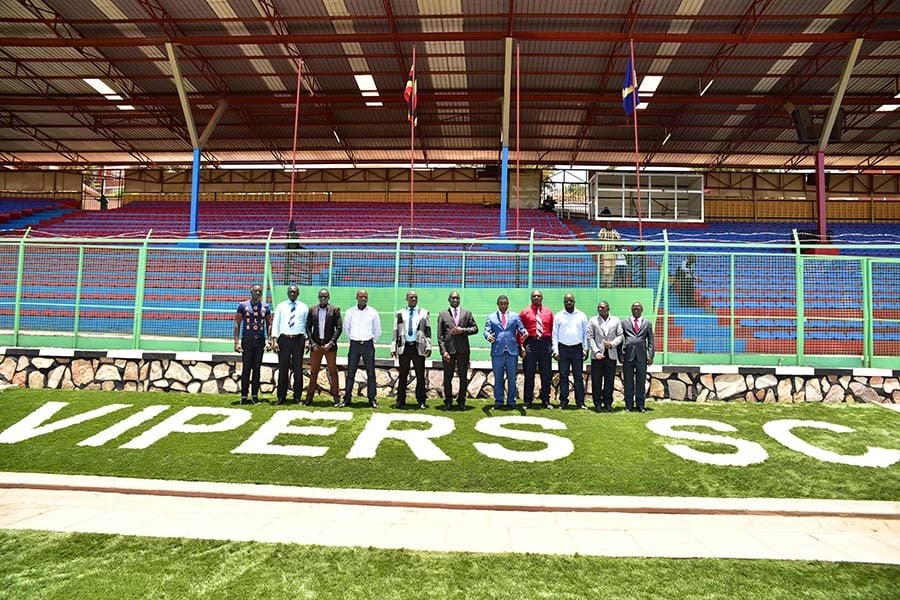 He said a team of experts was sent to various countries including Rwanda and others in Europe for a fact finding mission on how best to install the turf before zeroing on the best one.
Change St.Mary's face
In what he termed as the second phase of upgrading St.Mary's stadium, the former FUFA president a refurbished dressing room and sitting area for both the fans and the coaching staff.
The refurbished dugout hosts 21 personnel on the technical bench for each team.
Mulindwa said the new look was meant to live to the expectation of everyone as one of the ways to improve the game of football in the country.
"I don't think there is a club even in the premier league with a better dressing room than this one. We constructed the stadium in such a way that whoever comes here has an experience," he said.
According to Mulindwa, the third and fourth phases  of  developing the stadium would include installation of modern flood lights and expansion of the stadium.
He however urged other clubs in the country to emulate him by constructing stadia adding that this way the game of football will grow in the country.
He said that because there is always a first, other clubs can now follow suit other than always relying on sharing stadia.
On the same function, Vipers SC unveiled their 2018/2019 season full squad.